Hampshire Residence at Jalan Tun Razak
IBN Tower at Jalan Bukit Bintang
Kiaramas Sutera, Kiaramas Ayuria, Kiaramas Cendana, Kiaramas Danai, Gateway Kiaramas Residence at Mont Kiara
VUE Residance at Jalan Pahang Kuala Lumpur
Cameron Fair at Cameron Highland, Pahang
Casa Tropika at Puchong, SelangorN
Topographical survey of Lot 70, Mukim Damansara (approximately 400 acres)
Topographical survey of Lot 4182 &4183, Mukim Padang Meha, Daerah Kulim, Negeri Kedah (apprpximately 550 acres) 
Original Ground Level Verification survey for contractor Angkasa Tegas for Earthwork volume determination (Proposed Development : Saujana Puchong, approximately 300 acres). 
Topographical survey of Pekan Chembong, Rembau, Negeri Sembilan
Topographical survey of Lot38007, Daerah Ampangan. 
Topographical survey of  Lot 430 & Lot 1772, Mukim Rantau, Daerah Seremban, Negeri Sembilan.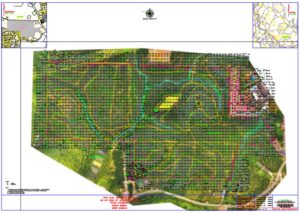 Engineering Survey & Road Survey
Underground Utilities Detection, Kuala Klawang, Negeri Sembilan
Pan Borneo Highway at Bintulu Airport
Jalan Meru, Puncak Alam.
Pembinaan Jambatan di atas lebuhraya Utara-Selatan di Jalan Batu Arang- Batang Berjuntai, Daerah Gombak Selangor.
Pembinaan jalan dari Kuala Temoyong ke Teluk Baru & Pantai Tengah, Langkawi, Kedah.
3D Laser Scanning and BIM Services
3D Scanning and conversion into BIM model of Jalan Berangan, Kuala Lumpur
3D Scanning and conversion into BIM model of abandoned school
Construction BIM(MEP) of Cantara Residences
Construction BIM(AEC) of Sime Kansai Water Borne Factory
Construction BIM(Elec) of MRT Station Sg Besi and MRT Station Serdang Raya 
Design BIM (Architectural and Structural) of Curvo Residences
Design BIM (Architectural) of Vesta Residences